We recently added the following ACT answer keys to our database:
60E (Apr 2005)
all three tests in the new "The official ACT Prep Guide 2016-2017"
73E (Apr 2016)
71E (Dec 2013)
If you are planning to administer any of these tests, feel free to download the answer keys (and any others you might find in our database that you would like to use) and then upload them to your PREP.BubbleScan account.
Please note that these are  for NEW ACT or ACT 2015. If you are still using the old ACT format, please consider switching. All new development is based on the new ACT format, which really only differs from the old in the way Essay scores are reported.  Please contact us if you have any questions.
You can browse our current database here:
Click on the test name to download the csv file.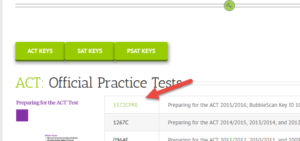 Log into your PREP.BubbleScan account, and select the NEW ACT Keys from the KEYS menu: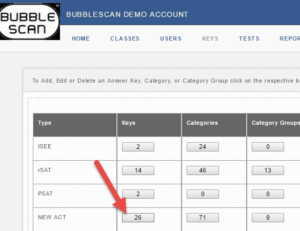 Select to ADD NEW ACT ANSWER KEY and select the answer key file you want to upload.