STEP 1:
To upload scanned answer sheets, click on 'Upload PDF/TIF images of scanned answer sheets' from the Home screen or Tests screen of your PREP.BubbleScan.net account.
STEP 2:
Select the type of test you are uploading (SAT-4page or ACT-2page) and the test date. Then select the PDF or TIF files you want to upload for processing and grading. You can use the green <+Add files…> button or drag files onto the canvas.
STEP 3:
On the Review screen you can look at individual pages by selecting them in the left pane and fixing any entries in the middle pane. A page with a questionable entry (in the example below a double-mark in the student ID) is flagged with a red triangle, which changes into a red triangle with green check mark as soon as the page is viewed.
STEP 4:
When you have reviewed all data, select all the pages you want and send them back to PREP.BubbleScan.net by clicking on the blue button. The data is now automatically graded against the answer key specified on the form.
STEP 1
Prep.BubbleScan.net allows you to add and edit existing answer keys. There are a couple ways to do this: 1. You can enter the answer key manually or 2. You can upload a csv file – either one you have created yourself or one from our library of answer key files or 3. You can contact us and have us create a csv file based on answer key information you provide us. (A fee may apply.)
---
Click on KEYS in the menu bar and then click on the answer key field for the desired test.
STEP 2:
By far the easiest method is to find your answer key in our library and to then upload it.
STEP 3:
Adding keys manually involves a fair amount of typing – especially when it comes to entering scales.
Students can be added in two ways. 1. By uploading a list of students or 2. By adding a student profile manually. Both methods are accessed through the Admin Panel of the PREP.BubbleScan.net .
When selecting 'Upload List' you have the opportunity to download a sample list which can be edited, or you can of course create one from scratch. The csv file needs to have a header row with field names as displayed on the PREP.BubbleScan.net page:
To create student profiles manually, simply enter the requested information and click save. If you have previously set up classes you can also assign the new student to one or more classes. And you can assign the student to be able fill out online answer sheets for any of the tests (answer keys!) you have set up in your account.
Why Grade with BubbleScan
Joerg Weser
2018-10-19T08:11:01-06:00
Why Grade with BubbleScan?
Save time
Grading tests by hand can be a tedious, time-consuming task. BubbleScan is a web-based OMR (aka 'scantron') service that let's you grade paper tests quickly and reliably. There are three simple steps:
Print our answer sheets (aka 'scantrons') on your laser printer, pre-filled with your students' name and a system-assigned ID.
Scan answer sheets using a regular document scanner and save as TIF or PDF.
Upload TIF/PDF images to your OnlineScoreTracker.com account for online OMR processing and immediate grading.
Also…
Another way tutoring companies can save time is through our ONLINE answer sheets. Great for remote tutoring, homework assignments or for 'extra' tests: Students fill out online answer sheets through any browser. They can even type in an essay. And for a more life-like experience, you can lock online answer sheets after a preset time expires.
Look Professional
As soon as student responses are submitted (either by you after processing paper & pencil tests or by the student using the online answer sheet) our system generates beautiful reports. You can print and distribute them or let students view them through their personal student account. All student reports feature your logo. An optional feature allows each question to be mapped to a custom reporting category which is then displayed as additional information on each report.
Also…
Aside from providing great-looking reports, our solution allows you to add a certain 'high tech' image to your tutoring business.
Each student can have a personal account where they can view all their test scores, read messages you or your staff have left for them (including attachments), and fill out online answer sheets for immediate grading of tests you've assigned to them. Students access their account through a web browser from any computer or mobile device.
Access to our OnlineScoreTracker.com portal can be via a custom link provided by you, a login panel hosted on your web site, or can be as simple as clicking a link on your website and bypassing our sign-in panel if students have already been authenticated through your own site.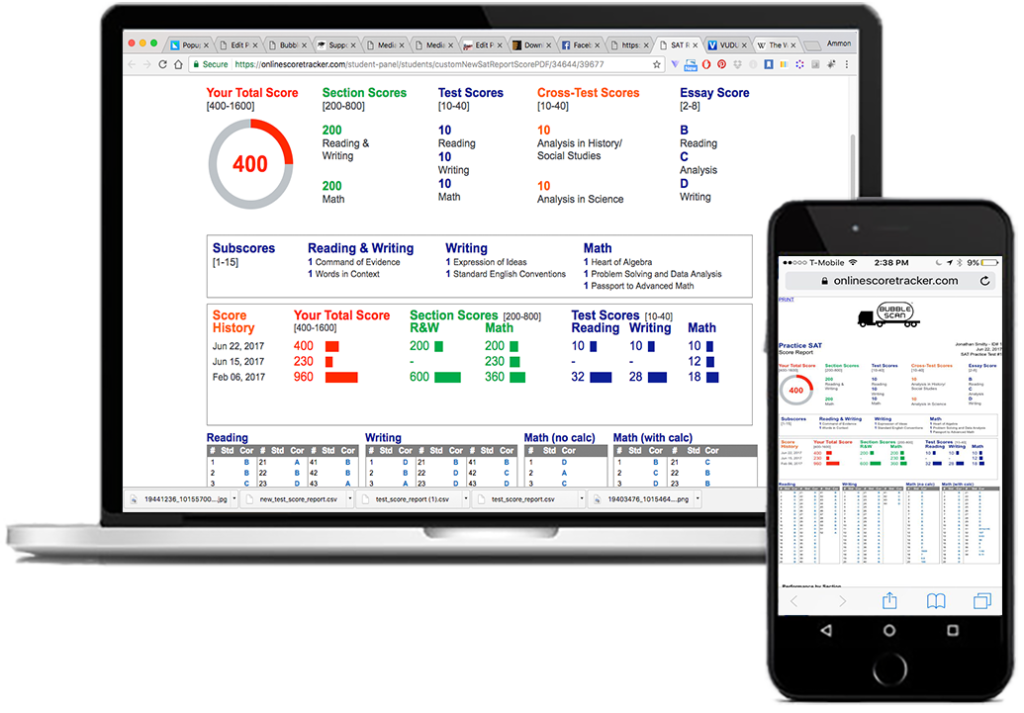 It's Affordable
Our grading service is as little as $1.00 per test.  Click here to read more about our pricing.