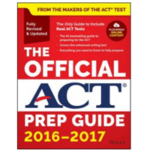 Premium keys for the three practice tests included in the The Official ACT Prep Guide 2016-2017 are now available through our online store.
We mapped all questions to the New Reporting Categories and also to our list of categories.
Tests graded using the premium keys will print a detailed question analysis on pages 2 and 3 of the student report.
Each premium answer key is available for a one time fee of $35 and  can be purchased online.
Click here to enter the online store now :
Test 1, Test 2, Test 3