We now provide a credit-based billing system.
Here is how it works:
You purchase credit packs through your OnlineScoreTracker.com account. You can pay online via credit card or request that we send you an invoice.
One (1) credit will give you unlimited grading for one student for one month.
Here is an example:
Oct 3: You create a student account. The student's status is IDLE. No charge.
Oct 5: You pre-print bubble sheets for that student. No charge.
Oct 7: You process the scanned bubble sheets and OnlineScoreTracker creates a student report. The student's account status changes from IDLE to ACTIVE. You can now grade an UNLIMITED number of tests for that student for one month (until Nov 6). You are charged 1 credit.
Nov 7: The student's status automatically reverts to IDLE. No charge.
Any time after Nov 7: If you grade another test for the student after Nov 6, the student's status will be ACTIVE again and you'll be billed one (1) credit.
Naturally, we couldn't stop there.
We do have a good number of customers who give diagnostic tests at schools in order to win new business. If you are one of those pro-active customers, we, of course, want you to grade those tests using our system. Charging you a full credit seems a little pricey for a one-off diagnosti test, so we came up with a way for you to grade tests for 0.5 credits/test. Tests grade that way will not affect a student's status (i.e. it remains IDLE).
And to make it even better, we are adding 'discounted diagnostic tests' for all who buy at least the 100 credit pack. E.g. when you purchase the 100 credit pack you get 200 discounted diagnostic tests for only 0.1 credit/test. This discount is automatically applied to the first 200 diagnostic tests you grade after purchase. After that the rate goes back to 0.5 credits/test.
You can monitor your credit usage through Tools-Credits. The table on that page records every time a credit or partial credit is used with the student ID of the student that incurred the credit.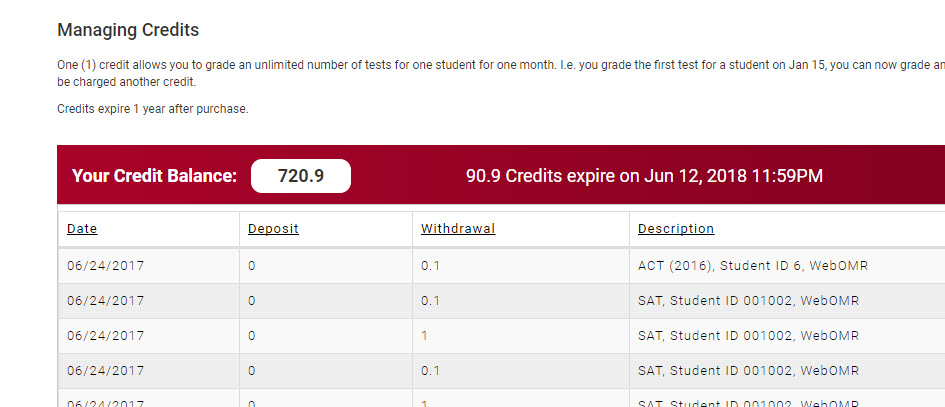 And for the very savvy user that of course presents an opportunity: What if your business is such that your students usually don't take more than 1 or 2 tests/month?
Yes, you can grade all your paper&pencil tests as diagnostic tests.
If you purchase 100 credits for $300 and get 200 discounted diagnostic tests and run ALL your tests as diagnostic tests, you'd be able to grade a total of 360 tests. 200 tests at 0.1 credits/test  for a total of 20 credits. And 160 tests at 0.5 credits/test for a total of 80 credits. That's $0.83 per test. Pretty good deal! [Pricing in this example is accurate at the time of publication, but subject to change.]